Everything you should know about what's in your Easter candy
A HowGood Sustainability Round-Up
From environmental impact to sourcing implications and labor issues, HowGood's research team dives into sustainability issues on the Easter candy shelf. Turns out, egg-shaped chocolate isn't all it's cracked up to be.
Looking for ethical Easter basket stuffers?
Some of the most ubiquitous pastel-colored holiday treats are rife with issues that may not match your values. If your regular shopping habits include looking for organic, GMO-free products made by workers who have been treated well, there's no need to throw those standards aside just for the holiday.
Perhaps it's no surprise that artificial ingredients, preservatives and poor sourcing standards go into making some of the most common Easter candy products. But our complex food system makes it difficult to find out the gory details – especially if there are certain issues that you care about more than others.
The report below takes an in-depth look at some of the most common Easter candy products, then provides sustainable alternatives with a positive environmental impact and fair labor standards.
Easter Candy sustainability report
Whoppers Mini Robin's Eggs
Company Conduct
Hershey is one of the largest chocolate producers in the world, with manufacturing plants throughout the United States, Mexico and Brazil. For a company of its size, Hershey actually boasts an impressive internal record, with relatively few domestic environmental and labor violations. That said, the sourcing of cocoa in particular has received less oversight.
Hershey announced a long-term plan to improve its cocoa sourcing in West Africa after Whole Foods announced in 2012 that it would stop selling some of their products. While HowGood does not yet endorse Hershey's sourcing standards, the company now has sourcing initiatives on par with those of other major chocolate producers.
Problem ingredients
Partially Hydrogenated Palm Kernel Oil: Partially hydrogenated oils, the source of trans fats, were banned by the FDA with a 3-year phase-out period, which concludes this year (2018). Most companies have already eliminated them, which is good, since the FDA concluded that their removal "could prevent thousands of heart attacks and deaths each year."
Further, palm oil itself is a highly controversial ingredient due to both the dislocation of indigenous peoples and the environmental degradation linked to its widespread cultivation in Indonesia and Malaysia. RSPO (The Roundtable on Sustainable Palm Oil) has sought to redress the industry's negative impact on the land and local populations, but most experts agree that success has been extremely limited.
Artificial Color (Red 40 Lake): Like several other dyes, it has been somewhat tenuously linked to ADHD in children. Despite having previously been banned in 6 European countries, it is now permitted.
Natural and Artificial Flavors: Both are lab-made additives, but whereas Natural Flavors originate in plants or animals, Artificial Flavors are synthesized from petroleum. They both serve the same purposes:
improve or replace flavors that have been lost during processing, or were never there to begin with because the raw material was not well-grown or processed at the peak of freshness

conceal other undesirable flavors that have been formed during processing

standardize products, minimizing variations in quality

lower costs by replacing more expensive ingredients (vanilla, grass-fed beef) with cheaper ones (vanillin, beef flavor)

extend shelf life
Cadbury Creme Eggs
Company conduct
Though Cadbury is owned by Mondelez International, due to a complicated series of acquisitions and mergers, Hershey now produces Cadbury products in the United States. This change occurred after Cadbury products manufactured in the U.K. were banned from import due to a violation of the Corrupt Foreign Practices Act, which Mondelez committed when expanding one of its plants in India.
Problem ingredients
Artificial Color (Yellow 6): A synthetic, petroleum-derived azo dye, "Sunset Yellow" has been tenuously linked to hyperactivity in children. Though it is banned in Scandinavia, the E.U. has reversed its restriction and now allows it. In our opinion, it is advisable to choose products with other coloring agents that achieve the same effect, such as annatto and beta carotene.
High Fructose Corn Syrup: Simply the cheapest, most readily available sweetener on the market in the U.S., HFCS is probably no worse than other sugars, but has nevertheless become the focus ingredient in many campaigns targeting the growing childhood obesity epidemic due to its ubiquity. Its primary ingredient is, of course, (GMO) corn.
Natural and Artificial Flavors: see above.
Lindt Chocolate Carrots
Company conduct
Swiss chocolatier Lindt & Sprüngli, owner of Russell Stover and Ghirardelli, employs over 13,000 across Europe and the Americas. The most recent significant blemish on a company record with few others is a recent Clean Water Act violation at one of the company's American plants. As a major purchaser of cocoa from West Africa, Lindt & Sprüngli also struggles to guarantee ethical and sustainable sourcing standards for all the raw material required to meet its considerable production demand.
Problem ingredients
Soya Lecithin: A multi-purpose additive, soya lecithin is frequently used in chocolate products with inferior ingredients as an emulsifier (it prevents cocoa and cocoa butter from separating) and to improve texture. It also replaces more expensive ingredients (cocoa), and thus serves as a filler to increase volume. Though it may be used skillfully and prudently, it generally signifies poor production practices and a use of low-quality ingredients. Additionally, it is manufactured under an intensive process involving hexane, the residue of which may remain on the finished product in small quantities.
Chocolate: A problematic ingredient because it is most commonly sourced from West Africa, where conditions of both child and slave labor are rampant. Organic, Fair Trade and other third party certifications, such as Rainforest Alliance, generally indicate a provenance that is above the industry standard, but are still not a full guarantee that the supply chain is entirely free from various forms of exploitation.
Artificial Flavors: see above.
Peeps Marshmallow Bunnies
Company conduct
Peeps are manufactured by Just Born, a Pennsylvania-based candy company. The company has a clean record, though is currently involved in a dispute with the workers' union, which it sued following a strike in 2016. Although the strike is over, the issues which prompted it - discrimination and pension funds - remain unresolved.
Problem ingredients
Blue 1: An artificial color that may cause allergic reactions in asthmatics.
Gelatin: A traditional ingredient prepared by extracting collagen from the bones and skin of animals (usually pigs) by treating them with hydrochloric acid and an alkali solution. Only objectionable because it is generally sourced from factory farms not practicing humane animal treatment.
Natural Flavors: see above.
Entenmann's Hot Cross Buns
Company conduct
Grupo Bimbo, based in Mexico, is the world's largest baking company, including such recognizable trademarks as Sara Lee, Wonder Bread, Entenmann's, and Thomas'. On the whole, the company has a commendable record with very few environmental violations. There have, however, been a number of work safety incidents over the years, and much of their production takes place in Mexico where labor rights abuses are more common.
Problem ingredients
Caramel Color: Though most likely harmless, the state of California considers it potentially carcinogenic/toxic.
Sodium Stearoyl Lactylate (SSL): An emulsifier/stabilizer. One of its components, stearic acid, is sourced from palm fruit, the harvest of which is widely known to cause significant environmental damage in Malaysia and Indonesia.
Palm Oil: see above.
Ethical, eco-friendly Easter candy alternatives
Don't lose hope, chocolate-lovers! There are some exceptional brands out there creating sustainably-grown, minimally-processed, responsible (and obviously delicious) products. Here are a few staff favorites:
Righteously Raw Caramel Cocoa
It may not be easy to make sustainably-produced chocolate bars, but these folks have figured it out. Their chocolate is responsibly-sourced with all organic, biodynamically-grown ingredients.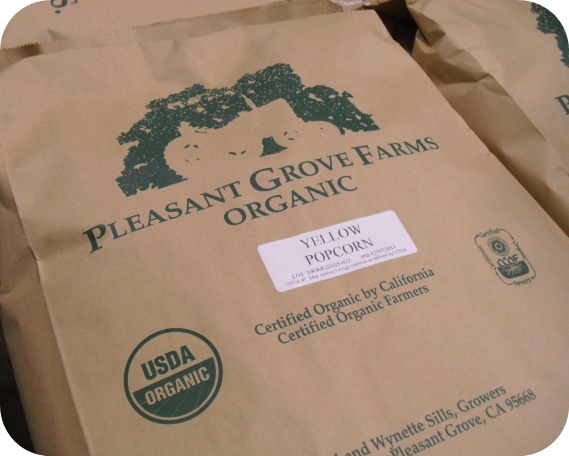 Pleasant Grove Organic Popcorn
If you're looking for basket-fillers of a different sort of "green" than fake plastic grass, popcorn is the answer. Pleasant Grove's goes through minimal processing, is 100% organically-grown, and comes from a small farm in California.
The argument for going overboard on Easter candy is a lot more sound when it's dark chocolate like Raaka's. Each bar is sourced from small farms that value community building and environmental integrity.
There are many more small producers doing big things in the world of sustainable chocolates and sweets. Discover other great choices at HowGood or download the free app to scan any item at your local grocery store.
Want even more info on the impact of buying responsible chocolates? Learn about cacao farmers and their livelihoods from our friends at FairTrade America.